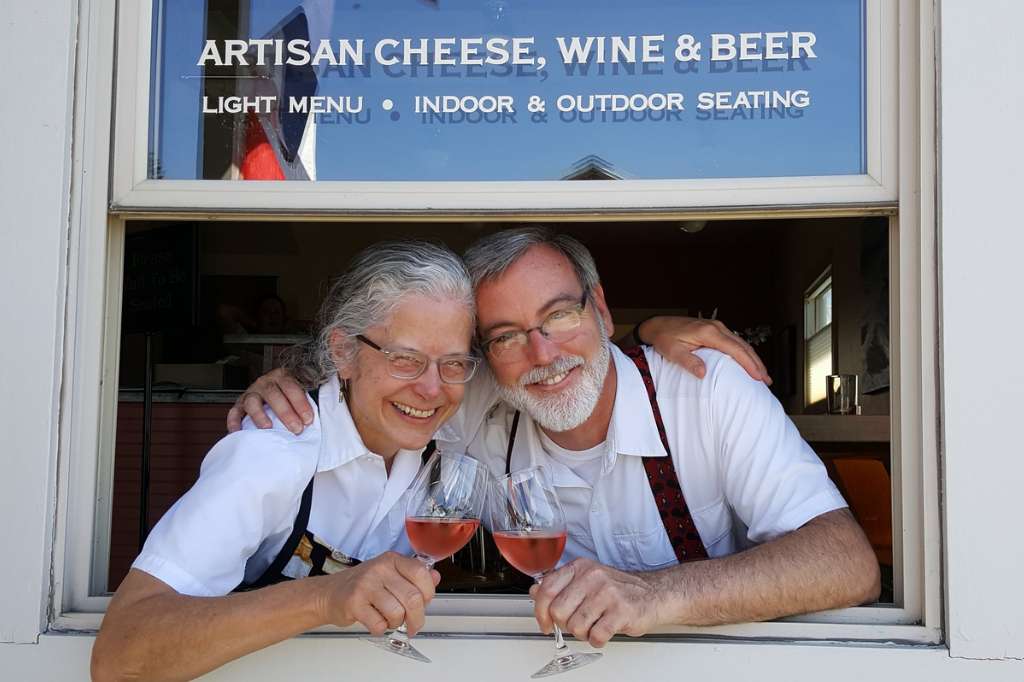 San Juan Bistro
A true mom and pop shop, co-owners Richard and Sherri Daly followed their passions and have truly created something out of nothing. San Juan Bistro was several years in the making and it evolved from a one-of-a-kind cheese shop to a favorite restaurant. Originally a residential home, the house at 155 Nichols has a distinct look with its slanted blue roof and rustic wooden floors. Now with a commercial kitchen inside dining area and outside garden patio, San Juan Bistro is the place to "Love Your Food!" and meet with friends.
Once upon a time in Corvallis, OR, a boy named Richard met a girl named Sherri and they fell in love. It was the year 1979. A year later, they were married. Fast forward 30-some years later, Richard and Sherri have successfully raised three wonderful children (and a really big dog) and have realized their need to leave the suburbs of Seattle to start something new together.
Sherri has a background in Microbiology and Food Science and was a fledgling cheesemaker (her Camembert-style cheese is out of this world). Richard and Sherri have traveled extensively and some of their best memories involve sharing outstanding meals and treats together with family. They wanted to share their passion for quality food and drinks, and build a space for others to create beautiful and memorable experiences.
And so began their quest to learn as much as possible about the cheeses of the Pacific Northwest in order to bring back that knowledge to the streets of Friday Harbor. Richard and Sherri began a 10-day cheese journey in early 2013 that spanned from San Francisco to Bow, WA, through dairy fields and cheese school. (Yes, they graduated!)
Returning to Friday Harbor brimming with excitement and new passions, Sherri and Richard transformed the original house of 155 Nichols St into a beautiful cheese counter/ wine bar/ lunch spot (with a patio oasis to boot). With careful planning and lots of hard work from a talented team, San Juan Island Cheese was born and has continued to grow and evolve into San Juan Bistro.
This power duo have truly created something out of nothing.
155 Nichols St., Friday Harbor, WA 98250