SEAPLANE FLIGHT AND FRIDAY HARBOR KAYAKING TOUR | FLY & PADDLE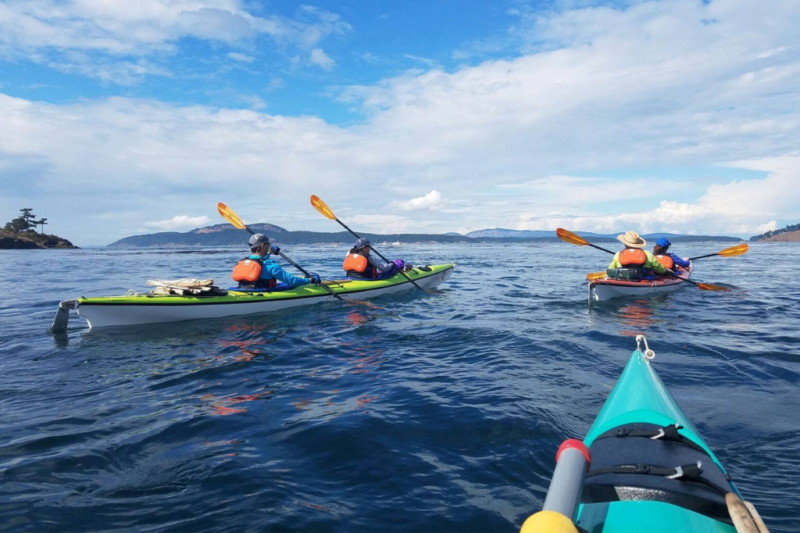 Enjoy our 45 scenic seaplane flight from Seattle to Friday Harbor on San Juan Island for a sea kayak tour adventure.  With our scheduled flights, you can connect easily to the sea kayaking tour operators for day trip or overnight/multi-day adventures.
To begin your Seattle kayaking adventure your scenic flight starts from South Lake Washington aboard one of our Dehavilland Beavers.  You can expect to see fantastic views of the Seattle skyline enroute up the Puget Sound to San Juan Island.  The flight is very scenic and your pilot will be pointing out the various points of interest along the way.  If you are lucky, as you approach San Juan Island you may see a pod of whales on your approach into Friday Harbor.
You can connect to the sea kayaking operators in Friday Harbor to book the San Juan Islands kayaking tour of your choice. By clicking the Book Flights Now button, you can check availability and book flights that best suit your needs for connecting to the Friday Harbor kayaking outfitter of your choice. We highly recommend that you confirm your kayaking tour and then book your flight with us.

San Juan Kayak Expeditions
Forged from leave-no-trace ethics and a commitment to excellence, SJKE continues to lead the industry, not in size but in quality.  From top-notch guides, to gear and to customer service our company is unmatched. Tim's goals have always been to keep the company on a personal level and to insure small group sizes for a more intimate guest adventure.
360 378-4436
Outdoor Odysseys
Experience San Juan Island kayaking tours that incorporate whale watching, camping, hiking and incredible outdoor cuisine as we celebrate our 30th year! Outdoor Odysseys Sea Kayak Tours has operated one of a kind sea kayaking trips from Friday Harbor, San Juan Island since 1987.
360 378-3533
Friday Harbor Kayaking Tours
San Juan Outfitters specializes in unforgettable guided sea kayaking adventures and whale watching and wildlife tours departing from San Juan Island, the number one spot in North America to view orca whales. With an emphasis on small group sizes and a high level of customer service, experienced guides and naturalists keep guests safe and comfortable while teaching them about the local flora and fauna. With tours ranging from 3 hours to 6 days, there is sure the be an adventure that's right for you! No previous experience is needed to join any tour with San Juan Outfitters. Tours include all kayaking gear and dry bags to keep extra layers and personal items dry. San Juan Outfitters uses top of the line, safe, and stable fiberglass sea kayaks that are locally made in Seattle, WA.
360 378-1962
Crystal Seas Kayaking
Crystal Seas Kayaking specializes in guided 3 hour, full day, sunset and multi-day kayaking and multi-sport trips in Washington's sunny San Juan Islands – mid March through mid October. The perfect adventure for singles, couples, groups, and families – no experience is necessary. For reservations or information on any of the San Juan Island kayaking vacations, single day kayaking tours or multi-sport vacations in the San Juan Islands.
877-732-7877
Discovery Sea Kayaks
Discovery Sea Kayaks offer a wide range of kayak tours from San Juan Island. All kayak tours have a shared focus on wildlife education, whale watching and adventure. Some kayak tours have more specific agendas such as whale watching while others focus on adventure and travel.
San Juan Island offers a great blend of accessibility, wildlife diversity and natural beauty. Pacific Northwest kayaking is defined by rocky shorelines, swift currents, wildlife and amazing sunsets. Travel routes best know for whale watching along the west side of San Juan. Explore dense kelp forest traveling, pass by harbor seals lounging in the sun and keep an eye out for passing whales. Discovery Sea Kayaks specializes in wildlife education based kayak tours.
360 378-2559
Sea Quest Expeditions
Join our expert guides in the premiere Orca Whale waters! Sea Quest's specialty is finding orca whales and marine wildlife while kayaking. We give you the best chance because our routes are chosen each day using the most recent reports to maximize your chances for a whale encounter! You may also see seals, sea lions, porpoises, otters, eagles and much more. Our 40 years of living and working as biologists and educators in the San Juan Islands make us the top kayaking and wildlife experts!
Sea Quest was chosen for National Geographic's "10 Best Trips in the World for 2011" and USA Today's "World's Top 10 Adventure Bargains."
360 378-5767
INFORMATION REQUEST FORM
Please inquire below for availability of your next seaplane adventure!