Day trips to San Juan Island | Seattle Day trip ideas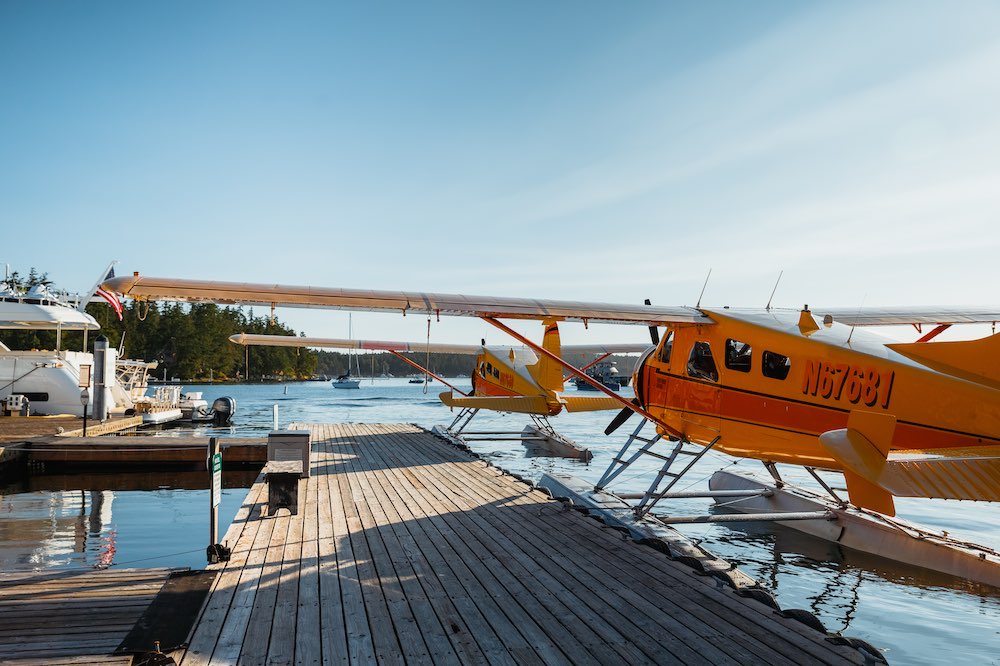 We have a pretty cool Seattle day trip ideas. Fly to San Juan Island for the day or just for lunch!  We offer the quickest and most scenic way to San Juan Island that allows you a quick visit as long as 90 minutes or a full day. Hop aboard one of our DeHavilland Beaver seaplanes and we will whisk you away to the charming town of Friday Harbor on San Juan Island or historic Roche Harbor Resort.
The tour begins from South Lake Washington. On your climb off Lake Washington you will get stunning views of Seattle's skylines and the home of Bill Gates.  As you cross into the Puget Sound, the Olympic and Cascade Mountains will be on your right and left side views to San Juan Island.  45 to 50 minutes is all it takes to get to downtown Friday Harbor or historic Roche Harbor Resort.
We offer a few options for Seattle day trip flights to the San Juan Islands. Catching our scheduled flights give you the most amount of time on San Juan Island. Our flight schedule allows for half and full day options (flight schedules vary throughout the season)
Call 425 277-1590 for more information.
Go for the day!
Book a round trip on our scheduled flights. Depending on the day and time of year, we offer two to three round trip flights per day. You can spend a full day on San Juan Island or a half day.  The flight time is 45 to 50 minutes and it is scenic both ways with a water landing at San Juan Island and at our base on South Lake Washington. Our aircraft are equipped with headsets and intercom so your pilot will narrate some points of interest along the way on both legs of your flights with us.
Go for lunch | 90 minutes in Friday Harbor or Roche Harbor
Our San Juan Island Tour flight from Seattle is a great option for those looking for a taste of San Juan Island, literally! We offer a quick round trip that gives you a scenic round trip flight to either Friday Harbor or Roche Harbor for lunch. This is the shortest option but allows you 90 minutes on the ground for lunch. Dining options are very close and within walking distance for both locations on San Juan Island. The tour flight and time on the ground is approximately 3.5 hours so you still have plenty of time in Seattle and ample time for lunch too. For those on a time budget, this is our shortest Seattle day trip option.
Go on your own Private Charter
For that special occasion of a romantic getaway, or just wanting your own private flight on your schedule with your own private group up to six passengers, Friday Harbor Seaplanes offers private charter flights. This is a popular day trip option for those with a custom itinerary. We offer service to all of the San Juan Islands, even the most remote. Take a trip to Sucia Island and have a picnic. Do some island hopping if you wish. We can help you plan that works for you. Pick your time, your island or islands and leave the flying to us.
Give us a call to discuss your private charter day trip ideas and we can give you a quote. Feel free to complete our charter inquiry form with all of the details and we will get back to you with availability and pricing.
Call 425 277-1590 for more information and reservations
SEAPLANE TOUR REQUEST FORM
Please inquire below for availability of your next seaplane adventure!